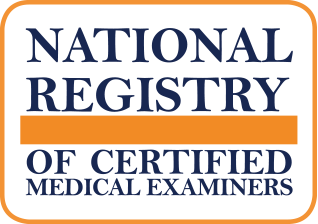 Dr. Jay Rumbaugh and Dr. T. Curtis Jones are both FMCSA Certified Medical Examiners.
Our doctors are DOT Certified and validated on the FMCSA National Registry of Certified Medical Examiners. Appointments are encouraged but walk-ins are welcome during business hours.
This office is certified to do:
CDL Medical Exams
DOT & Non-DOT Drug Screens
Breath Alcohol Testing
School Bus Physicals
Pre-employment Physicals
Learner's Permit Physicals
What is FMCSA certified mean?
The Federal Motor Carrier Safety Administration (FMCSA) requires that all CDL / DOT drivers operating a commercial vehicle (over 26,000 pounds, transporting more than 16 passengers, or transporting hazardous materials) on public roadways be DOT certified and drug and alcohol tested.
Who is required to test?
All employees who carry a CDL driver's license, or DOT medical examination card, who are employed by State, Federal, local government agencies, and owner-operators fall under the FMCSA category and should be DOT certified and drug and alcohol tested.
Why is this program so important?
The number one priority at the United States Department of Transportation is ensuring the safety of transportation providers of all modes of transportation, such as roadways, railways, water, air, and even underground. It is their responsibility to enforce that every employee working in this industry is 100 percent drug and alcohol-free.
Where can I go?
Our office has two providers, Dr. Allan J. Rumbaugh, and Dr. T. Curtis Jones, who are FMCSA certified service agents. A service agent is any person or entity, other than an employee of the motor carrier, used to help implement the DOT/FMCSA drug and alcohol testing regulations. We can provide employers and employees with your entire DOT testing needs.